What You Must Know Before Selling Your House This Fall
Posted by Alex Lopez on Wednesday, September 23, 2020 at 11:27 AM
By Alex Lopez / September 23, 2020
Comment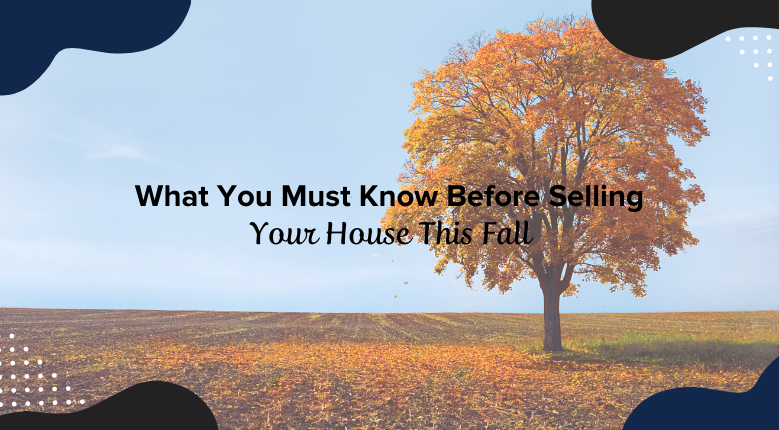 Do you plan to get your home on the market by the end of summer? Don't wait until you see the first leaves change color to begin making plans to sell your home quickly. There are some very specific items to check off your list now. The good news is that making preparations while time is on your side is the smoothest, simplest way to have a good selling experience.

Fall can be a very advantageous time to sell because inventory falls quite a bit. As a result, you're getting buyers who are far more serious than you might get during a season filled with "casual" browsers! What's more, you're getting an opportunity to show off your home as a cozy oasis that buyers can picture themselves in during the upcoming winter months. Let's take a look at the big tips to know about if you're selling your house in the fall.
Set a Clear Deadline for Listing Your Home

Don't let things drag out until December. You could be missing a key window if you don't put your home on the market until things like snow and holiday plans keep people from looking seriously at real estate. Your goal date for listing your home should be somewhere during the window spanning from Sept. 1 to Nov. 30. You're better off staying as close to the beginning of that window as possible.
Stage Your Home Specifically for Fall

Don't let signs of summer linger in your home once you get into September. You can really play up that natural desire among buyers to want to get into a cozy, lovely home as the temperatures drop. Use pillows, blankets and home accents with warm, rich tones around the house. Even some pumpkins or scented candles that fill the kitchen with the aroma of pumpkin pie can be very persuasive! Make sure your fireplace is running during all showings if your home happens to have one.
Bring in Some Light

Conduct a lighting audit in your home. Are certain rooms simply not as bright as they could be? A bright, sunny home is a welcoming one! Start by simply cleaning windows and screens to let in more natural light. You may want to consider adding some lamps or increasing the wattage on current bulbs. What's more, swapping to neutral paint colors on your walls could instantly brighten certain rooms.
Get Your Yard in Shape

Get some landscaping done this summer that will transition nicely into the fall. This can include adding some mulch, cutting back branches and repairing any walkway cracks. Make sure you have some spots ready where you can place mums or other fall flowers in a few months.
Do Some Inspection Work Now to Avoid Surprises Later

The worst thing that can happen is finding out that there's a major red flag or flaw that's going to hold up a sale after you get an offer in the fall. Be proactive about inspecting things like the roof, the HVAC system, basement leaks and more while you still have plenty of time to get things fixed without pushing back your listing date. Making repairs now will also allow you to have more leverage when it comes to listing price.
Address Clutter

Use the great summer weather to hold a tag sale that will allow you to rid your home of clutter that could make it unappealing to buyers. You're basically doing your future self a favor because all of the items you don't intend to take with you will eventually need to be sold or removed after you receive an offer. It's far wiser to begin the de-cluttering process when you don't have a clock running over your head! What's more, a clean, clutter-free interior is simply going to make your property more appealing to buyers!
It's Time to Get Excited About Selling Your House in the Fall

The team at Homeway Real Estate wishes you a productive summer that will put you in the perfect position to get your home sold this fall! Taking some of the steps shared above now may ultimately help you to enjoy a very fruitful, positive selling experience! Don't hesitate to reach out to the Homeway Real Estate team this summer if you're ready to start thinking of a strategy for positioning your property perfectly in the local market this fall!