Why Move to Stroudsburg Pennsylvania: 9 Delightful Reasons
Posted by Alex Lopez on Wednesday, November 10, 2021 at 10:41 AM
By Alex Lopez / November 10, 2021
Comment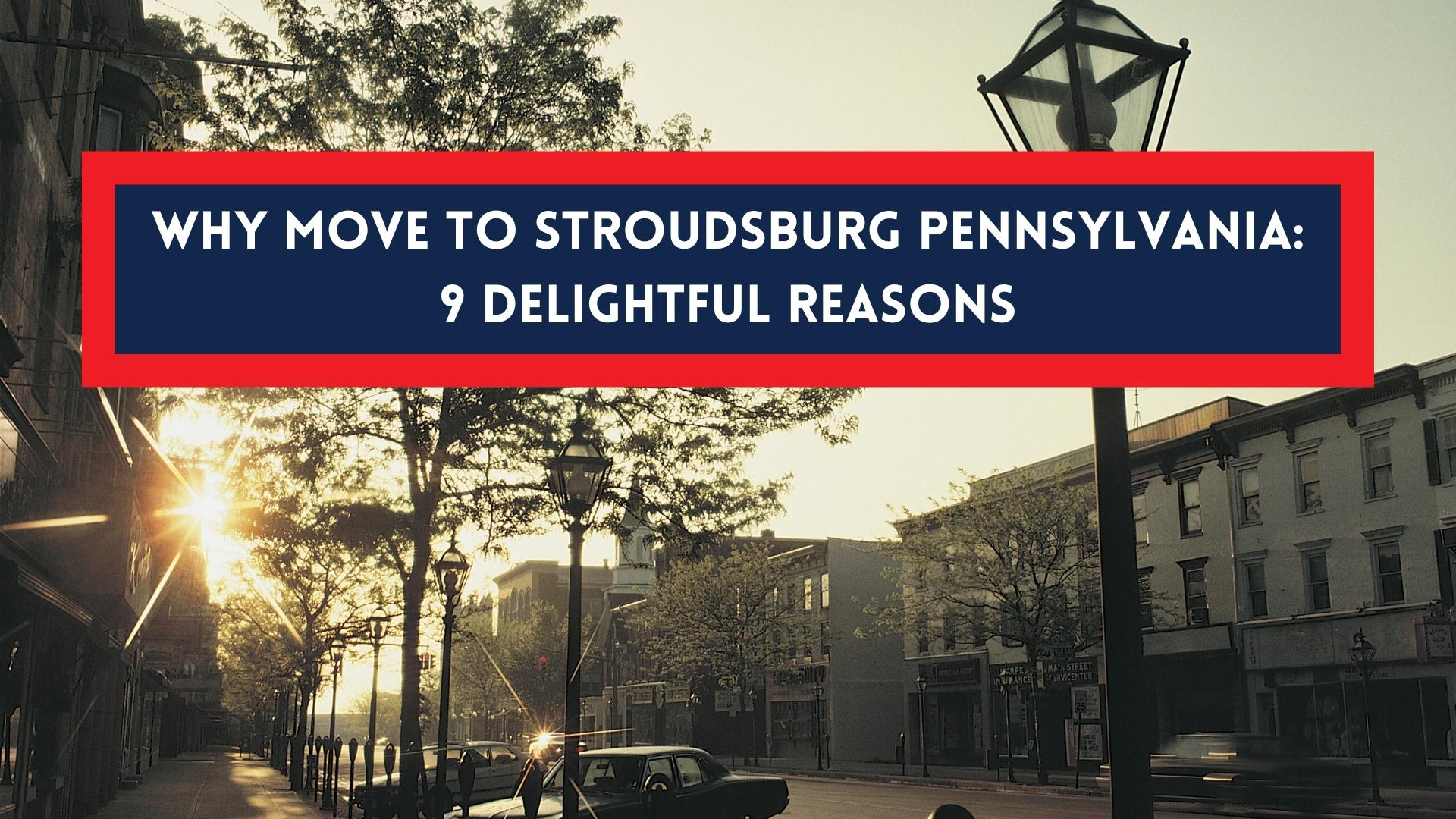 Before you even begin house hunting for a new dream home, you need to decide where you'd like to narrow your search. And for anyone considering a move in the Lehigh Valley, there's one borough that needs to be on your consideration list.
Why move to Stroudsburg, you ask? Stroudsburg, Pennsylvania, is known for its small-town feel and suburban lifestyle. But there is so much more to this town in the shadow of the Poconos Mountains. If you still need another reason or two to move to Stroudsburg, keep reading. Today, we'll give you nine delightful amenities and benefits of becoming a permanent Stroudsburg resident.
1. Stroudsburg Is One of the Best Places to Live
According to several independent surveys, Stroudsburg is one of the best places to live in the Lehigh Valley. Niche.com ranks this dense suburban neck of the woods based on expert insights and U.S. Census data.
Most Diverse Places to Live in Pennsylvania - 50 of 1,515
Places for the Best Public Schools in Pennsylvania - 570 of 1,291
Best Places for Young Professionals in Pennsylvania - 626 of 1,515
2. What the Residents Say About Stroudsburg, PA Living
Living in Stroudsburg, PA, is a treat, especially for those relocating from New York City. Many young professionals flock to this scenic burg and never feel too far from the NYC activity since it's only a 75-mile jaunt back to the Big Apple. But families and retirees love this Monroe County gem of a city too, citing the abundance of sprawling nature-scape from the Delaware Water Gap, the McMichaels and Pocono Creeks, and the Poconos Mountains.
Here are a few of the sentiments of what some of the roughly 10,000 residents have to say about living in East Stroudsburg, PA, and surrounding communities, as shared on Niche.com.
East Stroudsburg is a uniquely beautiful and safe place to live.
There's a lot to actually do here.
East Stroudsburg has many beautiful homes.
Many new houses are being built in order to cater to the new incoming residents. The schools and the districts are good. There are plenty of things around to do—a very peaceful and rural town.
It's a nice place to raise children.
It's safe, and it's diverse; it's nothing like New York.
Lots of open space and the people are very friendly.
The schools are very good; the atmosphere is peaceful and serene.
3. Small Town Glamour Meets Modern Appeal
Stroudsburg is a picturesque small town with a unique blend of old-world charm, modern attractiveness, and a welcoming downtown. The allure speaks for itself, having previously been named one of the top ten snow towns in Country Living Magazine.
The historic downtown is home to museums and galleries, street art and music halls, wineries, and eateries to delight every palate. In addition, Stroudsburg's distinctive architecture looms over its streets, housing new businesses, blending the past with the present.
This historical yet trendy town in the Pocono Mountains is a wonderful spot to spend a weekend or more. Come see what Stroudsburg has to offer, whether you're visiting Main Street or going off the beaten path into the zip code. On your trip to the Poconos, go on all of Stroudsburg's activities and experiences.
4. The Great Outdoors in Stroudsburg, PA
Stroudsburg's charming tree-lined streets and woodland parks and reserves are ideal for taking a leisurely stroll. The Levee Loop Trail offers gentle hiking and cycling routes that wind beside Brodhead Creek, which is also a great spot for fishing during the summer months.
Close by, the Kettle Creek Environmental Education Center and the Delaware Water Gap National Recreation Area both provide outdoor experiences for trekking and walking trails, bird viewing, wildlife viewing, and more.
5. Winter & Summer Fun
In the winter, Stroudsburg's small-town charm is amplified by festive decor on the trees, walkways, and storefronts. During the holidays, sparkling lights add a lovely glow to seasonal events while shops give unusual presents and holiday foods. Winter activities are popular, such as ice skating, sledding, cross-country skiing, snowshoeing, ice fishing, and eagle watching. Winterfest in Downtown Stroudsburg is a large celebration, while the annual Christmas Tree Lighting Ceremony is also a major event!
Summer in Stroudsburg is incredibly fun, too. You won't run short on tee times, thanks to several excellent golf courses in the area, making it easy to play a quick round in the morning and hit the town in the afternoon. Equally abundant are your choices for water activities, including jet skiing and paddleboarding. Go off-road for a rugged adventure or hit the trails with your mountain bike. From swimming to zip-lining, you'll always have a summer weekend adventure planned, just providing another reason why moving to Stroudsburg is a delightful idea.
6. A Historic Charm You Won't Find Elsewhere
There is an iconic history about Stroudsburg, PA, and celebrating that legendary past are a host of educational activities and sites to see. Enjoy a tour through some of the local museums, including the Schisler Museum of Wildlife & Natural History, the Pocono Indian Museum, and the Frank Frazetta Museum.
7. Living the Best Family Life in Stroudsburg
Museums and galleries, including the Stroud Mansion, Quiet Valley Living Historical Farm, and the Pocono Arts Council, offer special events and programs all year. Work together to solve the problem at Klues Escape Room or go shopping at the Monroe Farmers Market on selected Saturdays in this Pocono town. The McMunn Planetarium is another educational favorite for families with littles eager to learn.
There are also several family-friendly activities and festivals taking place in the city throughout the year. In addition to their performances and shows, the Sherman Theater assists in organizing a few of these events. Halloween, St. Patrick's Day Parade, and StroudFest are just a few of the popular annual events held on Main Street.
And if shopping is your thing, there are plenty of options. Stroudsburg has a wide range of boutiques and galleries, which include clothing, jewelry, shoes, sports equipment, house décor, and more. Dunkelberger's Sports Outfitter is one of the unusual specialty stores located in the city center.
8. Safety, Cost of Living, and Livability Data
Another delightful reason to move to Stroudsburg, PA, is the data. Some of the latest statistics, according to Citytistics.com, regarding livability in the area, prove it's clear why so many are looking to buy their dream homes here.
What's it like to live in Stroudsburg? East Stroudsburg ranks favorably in terms of livability. The city's data points and variables are added together after which a weighting is applied to compare East Stroudsburg's standard quality of life against other cities. The livability index is generated through sophisticated statistical models using education, crime, cost of living, and residents' overall happiness as factor variables.
Why are the houses so cheap in East Stroudsburg, PA? The cost of living is often a pretty significant consideration when looking for a new home in a new area. The cost of living data in East Stroudsburg is lower than the national average, and it is similar to that of other states. While certain areas might be more expensive on a state and federal level, the overall average for housing expenditures, utilities, food items, transportation, health care, and miscellaneous goods and services are less costly.
Is East Stroudsburg, PA safe? Crime rates in East Stroudsburg are lower than those seen elsewhere in Suburbia, nationally and statewide. So if you live in East Stroudsburg or are considering moving here, there's a good chance you shouldn't be concerned as much, and it's a big plus for living here.
What are the schools like? Overall, there is a thriving education segment in the region. Stroudsburg schools rank high on national and statewide levels when compared to other cities. These ranking calculations consider variables such as public school graduation rates, student enrollment rates, teacher-to-student ratios, and parent ratings.
9. Rise & Dine!
Another great perk of calling Stroudsburg home is the FOOD! Foodie enthusiasts can always find something new to call a favorite, and even the pickiest tastes have something to love. Whether you're into pub fare, café dining, or popular chains, you'll have a wide selection from which to choose. Enjoy Thai, French, and Italian cuisine when the mood strikes you.
Wineries, breweries, and distilleries have established a presence in the city center. Stroll out of the street and into Tolino Vineyards or RAW Urban Winery & Hard Cidery for a refreshing drink. And the nightlife is always popping if you need some music, entertainment, or late-night snacks and cocktails.
When you're ready to buy your Lehigh Valley dream home, make sure Stroudsburg, PA, is on your list to consider! Let Homeway Real Estate be your guide and show you why a move to Stroudsburg, PA, is a great decision.