Why 'The Best Real Estate Advice Ever' From Your Non-agent Friend Is Wrong
Posted by Alex Lopez on Tuesday, July 12, 2022 at 10:00 AM
By Alex Lopez / July 12, 2022
Comment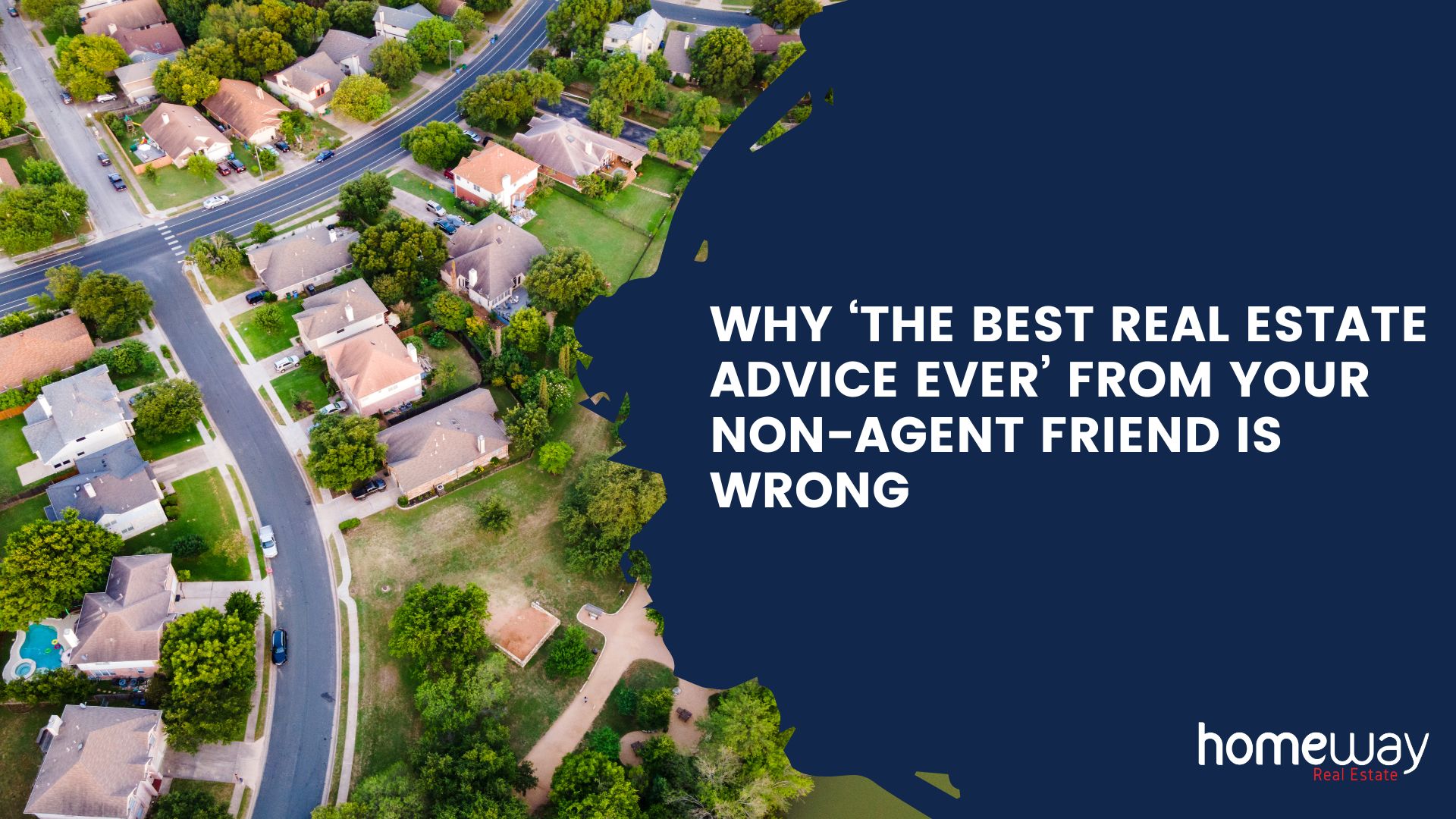 When you're buying or selling a Lehigh Valley house, it's a big commitment and a complex process, which usually comes with tons of questions along the way. You'll probably reach out to friends and family for advice, especially from those who've been through it before. But take those nuggets of advice with a grain of salt. While your loved ones may have the best intentions in sharing their suggestions, if you're getting pointers from someone other than a well-versed real estate agent, you could be venturing into troubled waters. Here's why the "the best real estate advice ever" from your non-agent cohorts is the wrong way to go. If someone advises you of these tips, beware.
You Won't Need a Real Estate Agent in Today's Market
The Lehigh Valley real estate market is incredibly hot right now. New listings are bursting online every day, and homes are selling in just a matter of days. You aren't going to need a real estate agent to sell your house with so much action. And when you sell or buy on your own, you could save thousands in commissions! It sounds like pretty great advice, especially the part about saving thousands. But when the market is as competitive as it is today, you actually need the sound advice and negotiating skills of a seasoned professional more than ever. Going it alone, FSBO, or trying to buy, you could find yourself making other more costly mistakes, like overpricing, underbidding, or missing key negotiables. Real estate agents handle these transactions for a living and know more about getting deals done than anyone else. And the stakes are even higher in a competitive market. So, don't try to go it alone.
Your House Is Just Fine. Let the Buyers Make Their Own Changes
This advice may be valuable in some situations. Or your non-agent friend is guiding you toward more listing headaches. It may not make sense to spend $50,000 on a kitchen renovation. But if you want to get the best offers and sell your home quickly, you'll need to explore making a few general improvements wherever necessary. Maybe it doesn't make sense to replace all your windows. But it can make sense to invest a few hundred in replacing worn or stained carpeting. Instead of a kitchen remodel, maybe a few subtle upgrades like the cabinet hardware or replacing an aging stove is a good idea. The point is a reputable real estate agent can help you decide what updates are worth making to see the results you want.
Don't Spend More on a Property Than You Can Afford
That sounds like pretty savvy advice in any situation. But it's the perspective that's all wrong. Instead of trying to determine the maximum amount you can spend on a home or the biggest loan you can afford, you should be asking yourself, "what's the least amount I can invest and still be happy?" When you work with a real estate agent, you'll have a sounding board of solid advice to help you determine what your must-have amenities are, along with the nice-to-have features. From there, you can carve out what you want and need from a property and try to spend the least amount of your hard-earned money to get there.
You're Selling. No Need to Make That Mortgage Payment
Uh, no. Don't listen to anyone who suggests this. Even if you're only a few short days away from the closing date, a lot can happen, and deals can unwind quickly. Maybe your buyer suddenly loses his job and, subsequently, his loan. What if a major storm rolls through and significantly damages your home, requiring major repairs and insurance claims? The experts in lending and real estate alike will all tell you to make that mortgage payment, no matter what. Not making the payment or facing late payments will be damaging to your credit and could impact your borrowing power in a negative way.
Don't Worry About Fixing Cosmetic Things
Unfortunately, this advice is not only bad, but it could also cost you money. Sure, replacing a stained ceiling tile might seem like a hassle and not worth handling. But first impressions and curb appeal will determine whether or not buyers become interested. The smaller, cosmetic fixes, like touch-up paint, fresh flowers on the porch, and a little tree-trimming, can go a long way with first impressions. Deferring the property maintenance steps will only impact your bottom line and usually result in a longer time on the market. So, spruce things up a bit, patch the drywall hole, paint the trim, and hang the porch swing. You'll reap the rewards in better offers.
Do All Your Renovations Before You Move into Your New House
It might not sound like bad advice. After all, you don't want to be living in a full-blown construction zone, right? However, it's worth considering a more gradual and organic approach to home renovations in your new house. A lot of DIYers, contractors, and real estate agent professionals all suggest moving into the space first, then exploring remodel projects. If the changes are largely cosmetic, living in the home first could present new ideas. You can get a better feel of the space and then make decisions about walls that have to go or design changes. Some of the plans you have now might not be needed at all. And you can avoid making unnecessary renovations and wasting money.
You Don't Need to Get Title Insurance
If anyone ever suggests you skip the title insurance, they're clearly not in the loop. Title insurance is an absolute must-have and provides protection from previous legal issues that may be involved with your new home's prior ownership. Skipping it, even if you're only refinancing, is strongly discouraged. Get the title insurance and save yourself from potential legal and more costly issues that can potentially blindside you later.
It's Not Going to Hurt If the Seller Stays in the Property After Closing
The deal's done, right? You need a month or so to get your moving arrangements in order, and so does the seller. Is it really going to hurt to let them stay in the property beyond the closing date? Yes, it actually could. It might seem amicable, especially if you and the sellers have a great rapport and want to handshake on good faith. But don't do it. Post-closing possession, that's the official term for allowing sellers to remain on-site, can expose you to a host of serious problems. What if the seller causes damage to your property? What if there are some nefarious motivations you're not aware of, and the seller purposely sabotages the property? What if someone slips and falls, coming after you for damages? It's just best to enforce a clean break after the closing date and insist the sellers vacate to avoid these potential what-if scenarios.
Save Yourself Some Money. Don't Worry About the Home Inspection
A home inspection is for your benefit, not anyone else's. The average cost is between $300 and $500, depending on the condition, size, and age of the home. That's peace of mind and well worth the investment. A home inspection report, even on new construction, can turn up a host of complications you can't see. Evidence of a squirrel's nest in the attic, a slow drip from a hidden pipe, a bathtub that doesn't drain, or even evidence of fungal growth can all weigh on your decision to buy. And the report will provide you with a list of things to watch out for, including potentially aging shingles or water heaters. Don't skip the home inspection. A few hundred dollars to prove everything is in order is just as valuable.
Lowball Your Offer by at Least X Dollars
You probably hear this a lot, and the dollar amount will vary based on who's doling out the advice. But beware. Lowball offers can result in losing out on the deal. If it's too low, your sellers may be insulted and simply refuse to work with you. Don't jeopardize the deal and rely on the advice of a real estate agent partner who understands demand, market pricing, and negotiations. Competitive offers are achievable without lowballing your way right out of buying your dream house.
Your Loan's Approved. Go Ahead and Start Furniture Shopping
You know that it's important to preserve your credit score and standing during the loan application process. So, when your non-agent friend says, "your loan's approved, it's ok to spend money now," you might be inclined to agree. However, it's no time to relax and start shopping for new furniture. Some lenders monitor credit right up until closing, meaning if you start impacting your debt-to-income ratios too soon, you could jeopardize your loan. And remember, deals can fall through at the last minute. If you start overspending now, you could be in a worse borrowing position later.
Start High. You Can Always Drop Your Listing Price Later
In the competitive market right now, you don't want to be "testing the market" with out-of-control listing prices. Don't price yourself right out of a home sale because your cousin said houses are selling right now way higher than normal. The listing price for your property will depend on specific criteria, including similar properties listed in your neighborhood. But other factors will contribute to a realistic listing price, too, like age, condition, updates, and location. Here's the other caveat. If you overprice now and start reducing the price later, potential buyers will notice. And instead of being interested, they might presume there's something wrong with your house if you make significant reductions. Let a seasoned professional help you determine the best starting price for your home, and don't guess your way through it.
Thinking About Selling? You Better Do It Fast!
Don't let anyone, no matter how well-intentioned they are, pressure you into prematurely listing your home. Take the time now to carefully explore your options and chart a course for when and where you'll move, what will need to be done with the property before listing, and identifying professional partners you'll need to get it done. You might be in a hurry to sell your home quickly, but you'll still want to get the best offers. And you'll still need to find another place to live, which means securing a loan and house-hunting yourself. Stay on your timeline and terms, and be methodical about creating your to-do lists. A lender, a real estate agent, and maybe even a real estate attorney can guide you to a proper listing, quick sale, and best results.
Let Their Listing Agent Represent You as the Buyer
This can come up more often than you think, especially if you're only casually looking for a new home to buy. If you find a property you wish to buy but don't have an agent to represent you as the buyer, you could be tempted to ask the listing agent to help facilitate on your behalf, too. This double-dipping can be helpful if you know the agent well and trust they'll represent your interests just as much as the seller's interest. However, if you don't know the listing agent, they'll be more than happy to help you but still may have allegiances to their listing clients. It's best that you go and find a dedicated professional to represent your interests.
You Can Do Your Own Open Houses
Nope. There are horror stories from homeowners who thought they'd promote and host their own open houses, only to encounter big trouble. Inviting strangers into your home requires supervision, a proper strategy, and vetting. People will explore your jewelry boxes and medicine cabinets when you're not looking. And potential burglars will often use open houses to case the place. Real estate agent professionals know how to spot these bad apples and have precise strategies for managing the open house. Don't try to go it alone and get the professionals to help.
My Friend Just Got Her Real Estate License. Use Her
As much as you'd love to help out a friend of a friend, buying or selling a home requires expertise. Now's not the time to rely on the advice or foresight of a novice agent who dabbles in real estate on the side. You need someone with years of experience buying and selling homes in the Lehigh Valley. It's your money and your home on the line. Don't trust those complex decisions with anyone other than an agent partner you trust has the right knowledge for the job.
Check Out This Algorithm to Help You Make an Offer
Unfortunately, there's no real magic wand solution to making an offer on your dream house. Counting cards in Las Vegas won't be helpful either. You might get advice from your non-agent friend about tips and tricks and math-based algorithms but beware. The market fluctuates daily, and estimates can change on a dime. Data from the local region is dynamic, and how homes are priced won't always align with those hush-hush, greatest algorithm tips. The best way forward involves making each in-the-moment decision based on the relevant data of the moment. And only an expert agent can help you understand and navigate those ever-changing figures.
Again, there's no harm in reaching out to family and friends for advice when you're ready to sell or buy a house. But don't be so quick to adopt all the suggestions you receive. Protect your investment and position yourself for the best real estate transaction possible by having a licensed expert on your side. Homeway Real Estate can be that Lehigh Valley partner whether you're buying or selling. Let our team of pros provide you with the soundest advice in today's volatile market. You can then feel confident that you're in touch with the latest trends, the best financial position, and have the best representation to achieve the most ideal results you want.